Closing remarks and karakia whakamutuka

Phil Ker – closing remarks
Janine Kapa – karakia whakamutuka
Speaker profiles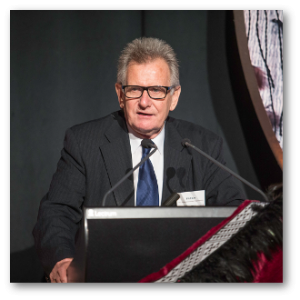 Phil Ker took up his appointment as Chief Executive of Otago Polytechnic in 2004.  He has a diverse set of experiences and has developed a broad portfolio of expertise as both an academic and an administrator in both university and polytechnic environments.
He is a successful tertiary leader and teacher, with expertise in curriculum development, assessment of student learning and leadership.  He has had a lengthy teaching career including teaching economics, accounting, management and tertiary teaching practice; and has had a career long interest in leadership and leadership development, in the professional development of tertiary educators and in the recognition of prior learning.
Phil's particular interest is in business education, education for sustainability, staff development generally and leadership development specifically; and in the recognition of prior experiential learning.
Janine Kapa is the Deputy Chief Executive for Māori Development at Otago Polytechnic. Janine has been passionately involved in Māori education for over 25 years; in the compulsory and tertiary sectors, from the classroom to the board room, both regionally and nationally. With a background also in social research, project management, communications and strategic development, Janine co-founded a bicultural communications consultancy in Wellington in 1999 and from then until 2003 worked in a number of central Government agencies, e.g.: ETSA (now the TEC), the Ministry of Health, Te Puni Kōkiri and NZQA. On returning to Te Waipounamu (the South Island) in 2003, Janine has worked for her iwi as the Ngāi Tahu Education Manager (2003-2005), and more recently, held leadership roles at the University of Otago (2007-2017), firstly as Acting Director then Deputy Director of Māori Development, and more latterly, as the Associate Dean Māori in the Otago Business School.
Event Timeslots (1)
Plenary sessions
-
Phil Ker and Janine Kapa